---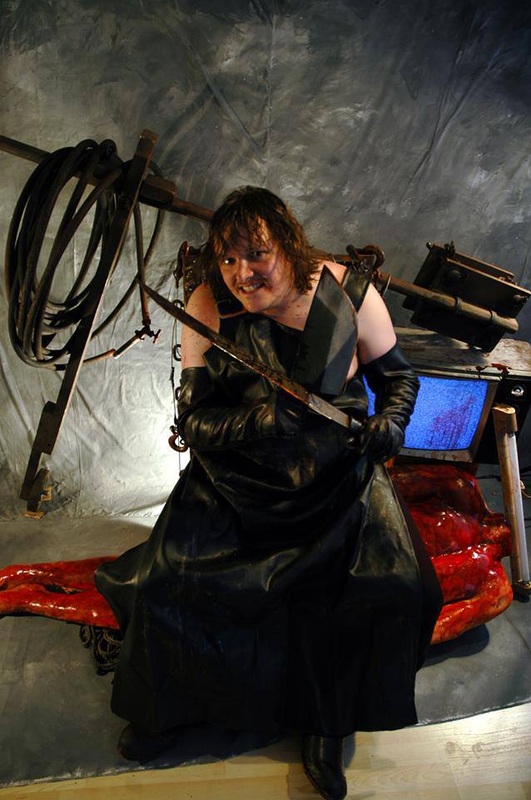 Ryan Nicholson!Horror hound and gore whores, I have a special treat for you! I had the absolute sickly sweet pleasure of interviewing none other than Ryan Nicholson! This maniac has over 100 film and special effect credits under his belt and more to be added in the future. In case you haven't a clue who this man is, for fucking shame, and to think you consider yourself a horror fan. Okay that was harsh, do yourself a favor and watch some of films, and fair warning, they are an acquired taste. With that being said, on to the Q&A! I have to ask you doll, what was running through your mind when you created Gutterballs? I loved the film and the sick gore made me cringe, laugh and smile, one right after the other.I wanted to create a very gory, retro slasher type movie that had elements of rape/revenge in it as well. Basically, a one stop shop for all things horror. The only thing it was missing was a creature! But that is not the case in "Gutterballs 2: Balls Deep". I have many surprises in store for fans in that one that is coming up! You got a strike on that one love. Now the rape scene, I can only imagine the bullshit you caught from it, from the so called critics. What was the worse feedback and how did you handle it? The worst feedback came in the form of message board threads with people threatening violence against me because they thought I was an evil person. I had walkouts in my own cast and crew premiere! I can only imagine what would have been written about the "PINetration" version had that come out first!Well, opinions are like assholes. I heard a rumor that you were thinking about cutting that scene all together. I can't stand rumors, but I have the chance to ask, so is it true or are they, like always, full of shit?
No, I would never have thought about cutting the scene. I know that in some international versions that it has been cut into a "fight" scene and not rape, but that wasn't my call. It was just to get a rating.
Well I am one of many that's bloody happy you didn't. Horror as of late, besides a few exceptions, lost is cringe factor, thank you doll for bringing it back. You sparked the inner gore whore in me, PINetration version? Is this a director's cut version of the film?Essentially it's a "roughie" version of the film showing actual penetration. Something like "Thriller: A Cruel Picture", where there's an XXX version of the flick. The PINetration version is homage to those roughie pics.Do you have plans to release it, or will that bloody gem stay hidden in the treasure chest? It was limited through my web store at 69 copies. Each came with evidence so to speak! "Exhibit A" was a panty swatch covered in dried up fluids and "Exhibit B" were Vag and Rectal swabs....gross. Now Shock DVD from Austria has put it out as the DVD only and they have 666 copies. So people can at least grab the movie although it's not signed. Does Shock DVD offer the little sticky extras? Wow, I can't believe I asked that... Anyways, what was used for the fluids, and do I even want to know, actually, let's keep that a secret. I ramble at times sorry Ryan. So, you are married to a wonderful and beautiful woman who also has a taste for the fucked up and twisted gore, what did she think about the negative reviews the rape scene? Hahaaa...no, just the movie. No collectibles. FYI....We used Elmer's glue, hot glue and acrylic paint. A little blood too. Some brown sharpie perhaps. My wife is sicker than me. She demands the most hardcore stuff be shot. I will gladly oblige.My type of woman! My intestines spill out to the lovely Meg!!! So doll, tell me about the article you are featured in Revolver magazine? It's about the extreme anthology feature film we are a part of called "The Profane Exhibit". It premieres in Austin, Texas in October at the first ever "Housecore Horror Festival"...it will be a red carpet event and the twelve other directors are legendary. Deodato, Coffin Joe, Richard Stanley, and Michael Maggot to name a few.
Funny you say Texas, I am moving there wicked soon, can you perhaps … I'm kidding. Tell me my dear, what is the story behind Gutterballs part 2, no spoilers, just a sneak eyeball peak if you will.Are you moving to Texas for real?! I love Texas. Been all over that state! As for "Gutterballs 2: Balls Deep", it takes place 7 or so years after the initial massacre. Sarah is suffering nightmares about BBK and seeks professional help. Her "doctor" believes in a more hands on approach to Sarah's fear so he sets up a fieldtrip, with some of his other patients as well, to a bowling alley so she can face her fear and conquer it. What awaits her and the others makes the first Gutterballs look like a PG rated movie!!Yes, that is plan for me to move there. Well, I know speaking for myself, I anxiously await to get my paws on the sequel! What role do you like most, producer, writer, director or effects artist?Writer/director. I can write up the most horrible things and then put them on camera. It's a match made in heaven. Well, I think that just about covers it, okay I know there is so much more, but you will have to wait for the book. What did she say? A book? Yes my disgusting blood loving fiends, I have the honor of writing a book all about this sick man's visions. It is a behind the scene type of novel telling you the way he sees the world, through his eyes and the camera lens. So, stop by Ryan's web store at: Plotdigger Films
and take a look around, you won't look at gore the same again.
---
---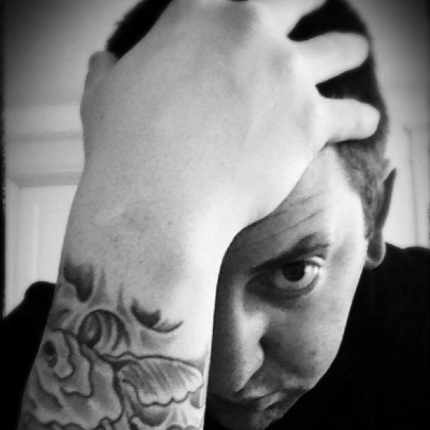 Brandon Nichols
Gruesome greetings and bloody salutations horror lovers! What era of horror is your favorite? Yes I know almost a hard choice, but we all have that one! I will tell you mine if you tell me yours? Besides the early classics, the slasher films from the 80's will always hold a special place in my black heart. With that being said, a very talented independent artist is about to take the next step in his career, directing his very first film. His name is Brandon Nichols, and not only does he paint, he does special effects, acts, plays drums, and is a screen writer! Yes my darklings, he does it all, and I had the honor of getting inside his grey matter to see what makes him tick!
You seem to have your hands in just about every art form there is, if you could choose your favorite, what would it be? I would have to say the art of filmmaking. I have learned so much in the last couple years about what it takes to put a film together, and I have fallen in love with every aspect of it. When I first got involved with doing short films, FX makeup was my prime focus. But as I continued to work on them, I began to appreciate all other aspects of a film's creative process and it's quite captivating.Captivating and stressful I assume. I know you're in the process of not only writing and doing the FX's, but directing your first film as well, how in the hell do you manage not to climb a water tower and, well you get the idea. How do handle so much at once? Art has always been a really rewarding outlet for me. Yes, it does get stressful at times, but I am addicted to art in general. I am always looking to create something, whether it's a painting, writing a script or story, or doing FX work. I actually get more stressed if I'm NOT doing something creative! The constant workflow helps to keep me sane. Ha-ha!
I grew up in a really encouraging environment, and I have a lot of musicians in my family. Not only was I constantly around creative people, but I was fortunate enough to have them pushing me to pursue my own passions.
You said that film making is your passion; let's go a bit deeper into that. I have seen your short films, and the effects were outstanding not to mention the acting was wicked tops. Now that you will see your work through a lens, how does that make you feel? I have been fortunate to work with some talented up and coming actors. Everyone has had a "go for broke" attitude and I am grateful to have been a part of those short films. Being a first time director is an interesting transition. It's a completely different territory than FX work so it was almost intimidating at first. I have to look at things completely different on the technical side, so it is quite a challenge. I'm really excited about it because it gives me a chance to put my ideas and stories on film! I have such a deep rooted love for the horror genre and I want to make the best films I possibly can.
Your film "The Depths", would you mind giving us a hint? If you could put this macabre work of art into a sub genre of horror, what would it be? I guess what I am asking is what era did you draw your inspiration from? Blood, guts, gore?
"The Depths" is a throwback to my 80's slasher influences. I grew up during a very awesome time of horror when splatter was in every other film. I still to this day love that era of horror because it just seemed like everyone was having fun making those films! Tom Savini was a huge influence on me and still one of my favorite FX artists of all time. For "The Depths", I tried to take a modern approach to an old school slasher film and put my own twist on it. It's pretty dark and creepy like the 80's horror films were.Creepy? Oh be still my black heart! I love slashers as much as the next, but I have to ask, who is your absolute favorite? When you say splatter, can we expect SPLATTER galore in your film? Well, as far as villains goes... Cropsy from "The Burning" was my favorite for quite a while. But then, Victor Crowley came along and the rest is history! Ha-ha, I was a big fan of movies like "Maniac"... "The Prowler"..."My Bloody Valentine" just to name a few. When the first "Hatchet" movie came out, it was like every element I loved from the 80's was packed in one film! I think what BJ McDonnell did with Hatchet 3 took the series to a whole new level. It was such an amazing film. The 80's influence is definitely there so it's awesome to see that people still appreciate those types of films.
Without spoiling too much, I will say that "The Depths" will have a specific kill that will pay homage to the 80's.
I for one cannot wait to see what horror your gruesome mind has created. You are a very rare breed in the world of independent artists Brandon and I want to thank you brutally for taking time away from your production to chat with me. Do you have any famous last words for the poor retched souls who are reading this right now? Thank you for taking interest in my work and for taking the time for someone like myself. To anyone who is reading this, keep supporting independent artists and filmmakers! Your support helps keep us going and creating! Cheers!Horror has changed over the past decade, and with all the remakes, I wonder if originality is a thing of the past. Don't get me wrong, there are many directors that create blood soaked, spine tingling movies and short films, those are what is keeping horror alive. Brandon's film "The Depths" will be just that. He funded the film by selling his art and has made the props on his own. With a great cast on board, this will remind us all why we love slashers!
---
All content is © DeadEnd horror and may not be used elsewhere without permission.