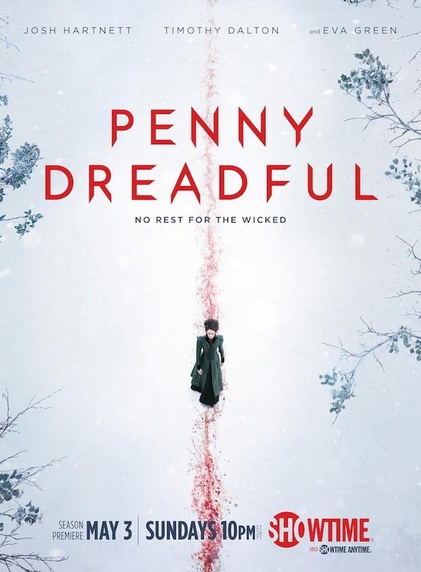 ​My cousins first saw this show when they were on a trip in Cabo. I was confused at first as to why they would spend time on their vacation watching television, until I saw the pilot episode. They informed me that the moment they saw it that it would be something I would greatly enjoy and I must say that they were right.
Penny Dreadful, so given it's name from the old British fiction publications from the 19th century of lurid serial stories appearing in parts over weeks and were printed on cheep paper and charged only a penny for the privilege of reading them, is set in the late 1800's London, just when the flimsy paper books were published. It starts off right away with spook and intrigue and leads you willingly into a chamber of bloody, mutilated corpses where even the most innocent do not escape the carnage. Already, the practical makeup effects were brutal and spot on. Piles and piles of bodies in various states of dress and decomposition greatly gave the impression that this particular brand of monsters had been there a while.
The show stars Timothy Dalton as a hard-edged explorer turned monster hunter in an attempt to wrest his adult daughter from their grasp. He is cold, hard and gives the perfect aloofness and lazer focus of a person on a mission with nothing to lose. The lovely Eva Green plays a dark, yet etherial beauty that holds an unflinching gaze and her hard as stone demeanor would lead you to believe that she has seen it all. No matter the sight that meet her eyes, she faces it with no nonsense. She harbors within her a darkness, a strangeness that shows itself with exacting clarity as the show progresses and her tail is, indeed, a dark and disturbing one. Josh Hartnett makes his return to screen debut after an 18 month hiatus as an American sharpshooter in a traveling Wild West show, but his skills and fire arms proficiency quickly gains the attention of Miss Vanessa Ives (Eva Green) as a person who could help them in there fight a great deal. However, like all characters in this show, he too holds a very mysterious secret.
The cast of characters are well placed and the evil that you feel lurks deep within. The show introduces you to a wide range of monstrous characters. For instance, a good portion of the Greats are shown homage. Vampires, Frankenstein's monster, and a slu of mutilated bodies that appears to be the work of a Werewolf. There is even talk of who could be the Bride of Frankenstein's monster, and a particular character is plagued by demonic possession, but what intrigues me more is the use of some not so traditional dark characters. For instance, a painfully beautiful Reeve Carney plays the little-used role of Dorian Gray. Now, not all of you will know, Dorian Gray was a young man obsessed with keeping his breathtakingly beautiful good looks for always and in a fit of panic at the reality of growing old, sold his soul (so to speak) so that a particularly wonderful portrait of him would age and wither, taking on the age and defilement from his soul as he lived a fast and debauchery life. While none of this is in the show (yet), you do get to see him gaze upon a portrait that you, yourself are unable to see so far. I was excited to see that the creators would dig so deep to surface a character that is so often overlooked in dark story telling. Another well known, but rarely used character that makes an appearance is a created creature that you ever so subtly realize is the Phantom of the Opera. I was completely flabbergasted when I saw this, for the Phantom is and has been a favorite of mine for many, many years.
This story is well handled, sewing thrill, intrigue and suspense in its quest to show you the truth about these unfortunate souls and their journey to whatever self discovery needs to be had. The writing is good and the dialogue is easily followed. The mixing pot style cultures that work there way through the scenes are masterfully done. The make up and practical effects are believable and the creature concept designs are wonderful; not too over the top, not too subtle.
I highly recommend this lovely, dark tale to any and all who seek violence and beauty in carnage and dark places. I look forward to the second season (airs May 3rd of this year on Showtime) and the rest of the story and all the guilty pleasures to be found there. The action and suspense at who these characters really are and what we may come to expect from them will definitely have me coming back for more. Until we meet again...

By: Tricia Potter
---
---
CONSTANTINE IS GOING TO HELL,
BUT HIS SHOW DOESN'T HAVE TO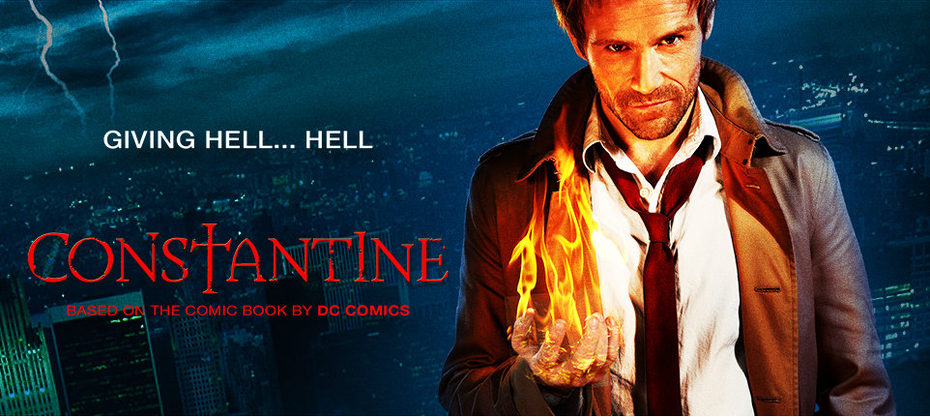 If there's one thing John Constantine deserved, it was some fair treatment in the live action world. With 300 original issues of story to mine from, not counting the recent New 52 reboot that's left fans divided, there's plenty for Hollywood to work from. Yes, we had the well-meaning, but ultimately misguided 2005 big screen WB vehicle which left hard core Hellblazers jaded. It almost seemed as if we'd never see DC's bad boy of the occult smoke his was through another live action adventure again. Here we are in 2014 and John Constantine finally got his due with his own series on NBC. And what a great show it is, but first to understand why Constantine deserves to stick around for just as many episodes as issues, let's take a quick look at the modern climate of television shall we?
In the modern age, television is quickly becoming the new cinema, with audiences enjoying the opportunity to spend more time with their heroes than 90 minute bursts that may or may not even get a sequel. Each week we can tune in to cinema quality work, (Constantine's visuals certainly support that notion) and ultimately end up with hours upon hours with the characters we love. We're at an important turning point in television and it's fitting that comic book heroes and horror are at the forefront of modern programming. Both have rabid fan bases, which often are one in the same. With that in mind, a comic derived show of the horror variety seems like a sure fire can't lose opportunity. And for the most part it is, unless you're NBC, a network almost as synonymous with unjustified cancellation as Fox.
Constantine is a strange beast; it doesn't have the household recognition of say the Batman variety which Gotham reaps weekly despite its often wonky framework and noir camp. Nor does it have 10 years of CW support such as its prime paranormal competitor Supernatural, which ironically according to creator interviews, was heavily inspired by Hellblazer. What Constantine DOES have is a voice, and almost 30 years or fans waiting to finally hear it walk, talk, swagger, and smoke its way through all things that go bump in the night, and by god that's exactly what it does every week. Constantine like many shows before it is finding its footing, getting into the groove of what it does, and honing what works, and what doesn't. It's the first season curse that almost every show has. Despite the blinders of nostalgia, I dare anyone to watch the entire X-Files season one and tell me if it's the be all, end all season of that show. It isn't. But Fox, in a rare move, let it grow into itself like a teenager trying to find her way in the world after that final year of high school. NBC if it's wise would do the same for Constantine. With all that now under the belt, let's look at what Constantine has going for it shall we? I'll break it down into a few segments to make my carrying on more structured.

1. Constantine has one of the greatest legs up on its comic derived competition, its lead. Matt Ryan to many fans IS John Constantine. This is the kind of actor in the kind of role, that given the chance and time to speak enough for viewers to listen, becomes iconic. To many fans, he already is. He's even the proud culprit behind the #SaveConstantine movement that began trending the minute mumblings began that the show might not see a 2nd season. This is the kind of actor fans want to get behind, an actor who cares about the character and his future as much as we do.
2. The visuals of the show are a cut above what we're used to in a network horror series. By visuals I don't just mean the special effects, but the entire pretty package this show comes wrapped in. It's a visual feast for the eyes. The large practical sets are always jammed to the gills with detail. No CGI in this department, real people on real sets that every time you look at them, you'll find something new, and sometimes that something new was put there by knowing makers, waiting for you to find their Easter egg. A strange area that I haven't seen much mention about this show is the lighting. It's stylish, it's and most of all, it looks a hell of a lot like the old Hellblazer books. Its comic book lighting done with such moody flair that it never ends up looking camp. What of the visual effects you might ask? They're pretty grand stuff; I've seen larger budgets waste money on way less. Constantine knows when the CGI is appropriate though and shows great detail and care when they're needed, never feeling like they're resorting to the "easy way out". The creatures and practical effects are fantastic as well, the rouges gallery growing from week to week with some of the creatures paying clever homage to old fashioned design. This old fashioned approach is appropriate given John Constantine doesn't ever use a cell phone in the show.
3. John Constantine doesn't use a cell phone on the show.

4. The creative staff of the show seems very much in love with the world they're bringing to life, and take great pride of voicing it on social media. Live tweets from cast and crew during episodes are the norm and done with great enthusiasm and humor. The network Constantine has created on Twitter alone is remarkable, hours can be spent jumping from tweet to tweet, and becoming a part of a VERY interactive experience for the fans. You feel a part of the show, which for some will allow them to invest more into it. If there's one thing Network Television is finally figuring out from YouTube is that fans want to interact with their heroes and the people that create them.
​
5. It's respectful of the original material and makes damn sure you know it. The show is filled to the brim with what we know from the books. From John's dark past, to the name of the punk band he was in, it's all there for fans looking for it. In fact episode 4 "A Feast of Friends" was highly touted for being a straight adaption of the 1st issue of Hellblazer, a good sign the creative team know their source, and want to deliver it as loyally as possible. The future looks bright for Hellblazers with the creative team promising to adapt "Dangerous Habits" which is what could be called John Constantine's most famous story. But in order for us to finally see John trick the devil, we have to keep him on the air. John Constantine may be damned to hell, but we don't have to let NBC send his show there. Join the #SaveConstantine movement and tune in Friday nights at 10:00 p.m.

Follow Constantine on Twitter & Facebook
twitter.com/NBCConstantine
By Dustin Austen
---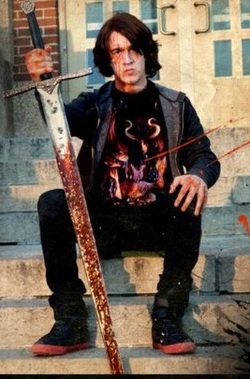 (Intercom crackles)
Umm… err… Welcome back students to another ghastly year at Crowley High. Now, listen up and pay attention all you groovy ghoulies and hobgoblins out there! Today's lesson comes straight from the hallways of Crowley High. Everyone take out your Book of Pure Evil and open to page 666 under the first chapter titled "Pure Evil."It's a classic tale of boy meets ghoul, boy falls head over tails for ghoul, ghoul wants nothing to do with boy, boy finds the Book of Pure Evil and becomes a metal god to win her over.The story begins with soon-to-be metal god Todd, and his quest for Jenny. In his effort to impress her, he seeks the Book of Pure Evil. He is possessed by it and is unaware of its apocalyptic nature.Meanwhile, Jenny is also seeking the book. She believes the Book of Pure Evil is connected to the mystery of her father's disappearance. Jenny forms an unholy alliance against the evils of this demonic book when she enlists Todd's help in the search. Naturally, Todd will do just about anything to win Jenny over. But, Todd can't do it without his best bud and partner in crime Curtis. Curtis' loyalty shines throughout the series as he helps Todd fight off the book. Curtis even sacrifices his own arm in the battle against evil. In the same fashion of the Ghostbusters or even Scooby Doo, the gang enlists highschool science nerd, Hannah. When her crush on Todd draws the attention of the book, the gang saves her and she joins their quest. Her high IQ and mystery solving skills round out the team. She is definitely the glue that holds them together when the shit really hits the fan.The gang's final member is Atticus Murphy, the school's guidance counselor. At first, Atticus seems like a cool and friendly guy but don't let his hip charm fool you. Atticus has his own agenda. He joins the gang to get a step closer to obtaining the book of pure evil for himself and the mysterious hooded leader. At the beginning of each episode, a troubled teen at Crowley finds the Book of Pure Evil. It grants the poor soul one wish. Whoever discovers the book is completely controlled by its dark forces, and will stop at nothing to get what they want. That's where Todd and his righteous gang step in to kick evil right in its balls! Along Todd's epic crusade he encounters a few friends and foes. First, Todd runs into three metal dude's loitering in Crowley High's parking lot. They really get their kicks off by trying to persuade Todd to use the book and become the pure evil one. Fortunately, Todd also seeks advice from Crowley High's womanizing, pot-smoking Janitor (Ahem, sorry Custodian) Jay who has a secret of his own. The Crowley High Custodian is played by the "Snootchie Bootchies" King himself, Jason Mewes! For those of you living under a rock, Jason Mewes is best known for his role as Jay in pretty much every Kevin Smith film. Todd & The Book of Pure Evil offers up some of the most creative and stylish monsters to date. They do a deadly job on the special effects and make up. It feels like a monster B-film from a creature feature show like TNT's Monster Vision with Joe Bob Briggs or even Elvira's Movie Macabre. Perhaps what really draws me to this show is that it pays tribute to the underdog in all of us. As the viewer, its very accessible to relate to the characters. Everyone goes through that same awkward stage of teen angst at some point in there lives. We all must succumb to the day-to-day mosh pit of growing pains that is high school. Todd & The Book of Pure Evil is a total wet dream for any fan of metal, bad-assery, and horror/comedy in general. Now I don't know about you, but I don't remember high school ever being anywhere near this rad! I highly recommend eye-balling this brutal show!
To learn more go to Todd & The Book of Pure Evil BY:Todd Wolfson
---